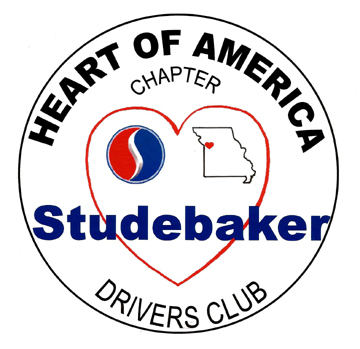 The Heart of America Chapter Studebaker Drivers Club was organized in June 1969. The chapter is an affiliate of the International Studebaker Drivers Club.
To be a member of a local chapter you
MUST be a member of the International Club also.
The International Club has members in the United States, Canada, Australia, Netherlands and many other countries throughout the world.
The Heart of America Chapter is part of the Upper Mississippi Valley Zone which includes Missouri, Iowa, Minnesota, Illinois and Wisconsin. Our chapter has over 60 family memberships from just north of Clinton, Hamilton on the East, Westboro to the North which is just about on the border and west into Kansas.
Several of our current members have been active in the chapter since it was organized.
The chapter is dedicated to the preservation and display of Studebaker vehicles and to promote fellowship and good will between Studebaker owners and enthusiasts in this area.
Meetings are held monthly in various locations generally on the 3rd Sunday of each month. Some meetings are on different days due to special events. Keeping Studebakers in the public view is an important part of our club. Ownership of a vehicle is not a requirement for membership.
HEART OF AMERICA CHAPTER STUDEBAKER DRIVERS CLUB OFFICERS
President: Jim Nelson - 1104 N Kenwood - Kansas City, Mo 64155 - 816-805-1415 - lheadscotsman@gmail.com
Vice President: Randy Meek - 7516 Lake Road - Platte Woods, MO 64151 - 816-885-4438 - jrandymeek@att.net

Secretary: Janice Huffman - janice.huffman55@gmail.com
Treasurer: Jane Carpenter - jamesjanec@aol.com
Webmaster: Diane Crooks - dcrooks45@aol.com
Newsletter Editor & Membership Secretary: Betty Dornhoffer - 7818 N Main Street, Kansas City, MO 64118 - 816-436-6827 - ldornhoffer@kc.rr.com
Please click on "Membership Application.pdf" below for a printable Membership Application.
REGIONAL STUDEBAKER DRIVERS CLUB OFFICERS

Upper Mississippi Valley National Zone Director: Duane Miller - 1808 S 11th Avenue, Eldridge, IA 52748 - dulymiller@gmail.com
Upper Mississippi Valley Zone Coordinator: Tom L. Sexton - Box 256, Riverside, IA 52327tomlsexton@mchsi.com
Missouri Regional Manager - John C. Crooks - 4508 Rock Springs Road, St Joseph, MO 64505 - jcrooks45@aol.com
NATIONAL STUDEBAKER DRIVERS CLUB OFFICERS

PRESIDENT: Tom Curtis, 3538 Gordon Road, Elkhart, IN 46516 - tomnancurtis@aol.com
VICE PRESIDENT: Don Cox, 425 E. Kendall, Corona, CA 92879-2441 - studebaker_don@yaoo.com
SECRETARY: Nita Ketchum, P. O. Box 106, Drasco, Arkansas 72530 - nlketchum@aol.com
TREASURER: Jane Stinson, 5800 Stanley Road, Columbiaville, MI 48421 - jestinson@aol.com