Heart of America Chapter Studebaker Drivers Club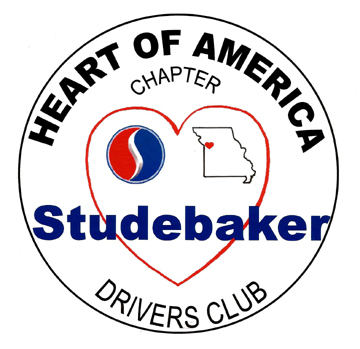 Meetings are generally held the third Sunday of every month. If there is a special event, this will sometimes change.

To belong to this Chapter, you MUST belong to the National Studebaker Drivers Club. This is mandated by the National Studebaker Drivers Club.

The dues are $20.00 per year due January 1st.

If you are interested in learning more about this Club, please contact any of the officers listed below. You can also print out the Membership Application and mail it in.
President - Andy Herrold, 7411 Glenwood Ln, Overland Park, KS 66204 - mrkvii@hotmail.com
Vice President - Randy Meek, 7516 Lake Road, Platte Woods, MO 64151 - 816-741-0579 - jrandymeek@att.net
Secretary - Janice Huffman, 7812 North Liberty, Kansas City, MO 64118 - janice.huffman55@gmail.com
Treasurer

- Jane Carpenter, 1102 Gambrel Rd, Greenwood, MO 64034 - 816-537-6814

Newsletter Editor & Membership Secretary - Betty Dornhoffer, 7818 North Main St,
Kansas City, MO 64118 - 816-436-6827 - ldornhoffer@kc.rr.com
Webmaster - Diane Crooks, 4508 Rock Springs Rd, St. Joseph, MO 64505
816-233-5546 - dcrooks45@aol.com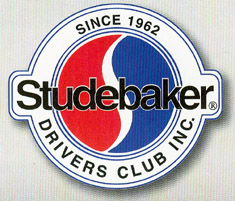 MAY 3-6, 2017 - 53rd ANNUAL STUDEBAKER DRIVERS CLUB INTERNATIONAL MEET - SOUTH BEND, INDIANA.-
Hosted by Michiana Chapter SDC - bringing together The Studebaker Drivers Club, Antique Studebaker Club and Avanti Owners Association International. This will be a new format of four days. For a current schedule of activities and on line registration please click the link below.
AUGUST 3 - 6, 2017 NORTH CENTRAL ZONE MEET - This meet is being hosted by the Pikes Peak Chapter in Colorado Springs, Colorado. Please click on the two links below for a printable Registration Form and also information on the events during the Zone Meet.
August 24-26, 2017 - 2017 UPPER MISSISSIPPI VALLEY ZONE MEET - Sponsored by Wisconsin Region Studebaker Drivers Club - Host hotel: Sheraton Milwaukee Brookfield Hotel - 375 South Moorland Road, Brookfield, WI - 262-364-1100. Join us in Wisconsin to meet your Studebaker friends, share knowledge and stories and have a good time. The Sheraton Milwaukee Brookfield Hotel is West of Milwaukee off I-94 and Moorland Road. For more information call Rick Rechek 920-905-5401. Please click the blue link below for a printable Registration Form which also contains a list of the activities.
September 9, 2017 is International Drive Your Studebaker Day
HEART OF AMERICA CHAPTER MEETINGS
DURING THE WINTER MONTHS WITH INCLEMENT WEATHER PENDING, PLEASE CALL THE HOSTS TO SEE IF THEY ARE STILL PLANNING ON HOSTING THE MEETING!

May 21, 2017 - Lexington, Mo - hosted by Marcia Hicklin.
June 25, 2017

-

PLEASE NOTE CHANGE OF DATE -

Kansas City, MO - hosted by Mike Hawkins. We will be given a tour of Mike's Studebaker collection.
July 9, 2017 - Date is still tentative, but we are trying to arrange a meeting in the West Bottoms of Kansas City, MO. We would meet by the Studebaker Building at 13th & Hickory. This building was built in 1903 by Studebaker Brothers Manufacturing.
August 20, 2017 - Kansas City, MO - hosted by Joe and Janice Huffman.
September 17, 2017 - Creighton, MO - hosted by Ray Bates
October 15, 2017 - Platte Woods, MO - hosted by Randy and Marce Meek.
November 19, 2017 - Cave Spring Historic Site & Nature Center, Kansas City, Mo - Regular business meeting.
December 17, 2017 - Greenwood, Mo - Annual Christmas Party hosted by Jim and Jane Carpenter.
Club Members with their cars
© 2015, All Rights Reserved.