Heart of America Chapter Studebaker Drivers Club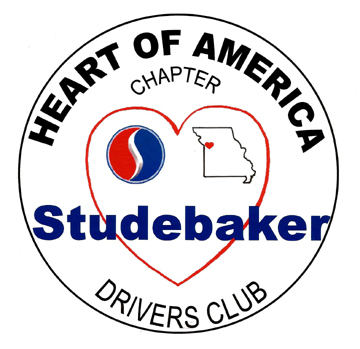 Meetings are generally held the third Sunday of every month. If there is a special event, this will sometimes change.

To belong to this Chapter, you MUST belong to the National Studebaker Drivers Club. This is mandated by the National Studebaker Drivers Club.

The dues are $20.00 per year due January 1st.

If you are interested in learning more about this Club, please contact any of the officers listed below. You can also print out the Membership Application and mail it in.
President - Andy Herrold, 8414 West 79th Street, Overland Park, KS 66204 - 913-488-8103 - mrkvii@hotmail.com
Vice President - Randy Meek, 7516 Lake Road, Platte Woods, MO 64151 - 816-741-0579 - jrandymeek@att.net
Secretary - Janice Huffman, 7812 North Liberty, Kansas City, MO 64118 - janice.huffman55@gmail.com
Treasurer

- Jane Carpenter, 1102 Gambrel Rd, Greenwood, MO 64034 - 816-537-6814

Newsletter Editor & Membership Secretary - Betty Dornhoffer, 7818 North Main St,
Kansas City, MO 64118 - 816-436-6827 - ldornhoffer@kc.rr.com
Webmaster - Diane Crooks, 4508 Rock Springs Rd, St. Joseph, MO 64505
816-233-5546 - dcrooks45@aol.com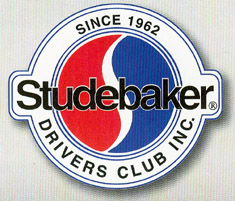 2018 Upper Mississippi Valley Zone Meet Hosted by the Iowa Hawkeye Chapter SDC - August 10-12, 2018 - Clarion Highlander Hotel & Convention Center, 2525 North Dodge Street, Iowa City, Iowa. The Clarion Highlander is ready for your room reservations. Use this link to make your reservation: http://www.choicehotels.com/reservations/groups/ZL6HL6 or call 310-354-2000 and ask for the 2018 Zone

Meet room block to get the $94/night rate.

Event contacts: Cindy Sale (515) 229-8866 cynsale@msn.com or Tom Sexton (319) 430-4548 tomisexton@mschsi.com




Click on the blue link below entitled "2018 UMV Zone Meet, pdf" for a printable Registration Form.For the Schedule of Events, click the blue link below entitled "Zone Meet schedule final. pdf".
Just in: Richard Quinn will be the guest speaker at the 2018 Upper Mississippi Valley Zone Meet at the banquet.

Below is a photo of the front of the Zone Meet T-Shirt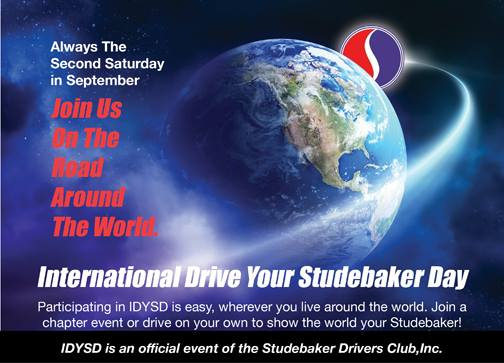 THE 2018 INTERNATIONAL MEET WILL BE HELD IN TACOMA, WASHINGTON AT THE LeMAY CAR MUSEUM ON AUGUST 20, 2018 TO SEPTEMBER 1, 2018.
Please click on the blue" SDC International Save the Date 2018, PDF" for information on hotels for this event.

HEART OF AMERICA CHAPTER MEETINGS
DURING THE WINTER MONTHS WITH INCLEMENT WEATHER PENDING, PLEASE CALL THE HOSTS TO SEE IF THEY ARE STILL PLANNING ON HOSTING THE MEETING!

August 19, 2018 - Hosted by Alan and Rosemary Olas
September 22, 2018 (

SATURDAY

) 11 AM - Hosted by Joe & Janice Huffman. This will be a joint meeting with the local chapter of Avanti Owners and we will tour the Armacost Museum.
October, 2018 - Andy Herrold will arrange this meeting. It will possibly be participation in the 46th Annual Antique and Classic Car Show in Lawrence, Kansas on October 7, 2018.
November 18, 2018 - 2 pm at the Cave Spring Nature Center, Kansas City, Missouri. It will be a regular business meeting where we set a schedule for 2019 and we elect officers for 2019.
December 16, 2018 - Christmas Dinner and Meeting - Time and location to be determined.
2019 INTERNATIONAL MEET WILL BE HOSTED BY THE HEART OF OHIO CHAPTER IN MANSFIELD, OHIO IN SEPTEMBER

. Chair: Dave Hamblin 419-947-1360 - email: daveh2949@centurylink.net
Club Members with their cars
© 2015, All Rights Reserved.