Studebakers driven to the September 17, 2017 Meeting at Randy & Marce Meeks home in Platte Woods, Missouri

Photos by Betty Dornhoffer
Studebakers driven to the August 20, 2017 meeting at the World War 1 Museum in Kansas City, Missouri

Photos by Betty Dornhoffer
Studebakers driven to the July 8, 2017 Meeting at the West Bottoms, Kansas City, Missouri.
Photos by Betty Dornhoffer
Studebakers driven to the June 25, 2017 meeting in Kansas City, Missouri.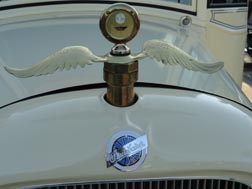 53rd INTERNATIONAL MEET WAS HELD IN SOUTH BEND, INDIANA ON MAY 3 - 6, 2917
This meet was held in the new four day format. It was very busy, but everything got done. South Bend always has the most cars judged and displayed. This year was no different.
The Avanti Owners Association International held their meet in Kansas City, Kansas on September 23 & 24, 2016. Click below to view a video of some of the Avantis on their way to the WW I National Museum.
Two Club Members won awards at the Lawrence Car Show on October 2, 2016. George O'Brien won 2nd place for Feature Cars with his 1955 Champion and Keith Smith won 2nd place for Longest Distance Driven with his 1940 Champion.
Joe Huffman sent these photos from Cruising the Coast in 2016.