FOR SALE: 1964 Cruiser - aluminum radiator extra big - 2 speed electric fan - Edelbrock four barrel carb - electronic ignition - 12 volt electric fuel pump - FM radio - factory power steering - power brakes - excellent interior - rust free Georgia car - 63,000 actual miles - $10,000 OBO - located in the Des Moines area - call 515-577-2191.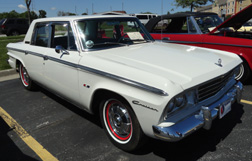 AUCTION - SATURDAY, AUGUST 10, 2019, CREIGHTON, MO. Ray Bates is selling his home, property, tools, machinery, Studebakers, parts, etc. Included in the cars being sold will be his 1963 Champ half ton pickup and his 1990 Avanti 4-Door. Diamond S Auction Co. out of Bolivar, MO is handling the sale. The sale bill will be up soon and will posted as soon as possible.
FOR SALE: 1964 Studebaker Commander - probably 289 motor, has seats - last time it was licensed was 1990 in Texas have title - 3 speed column shift. It is a 4 door car (parts car) good front clip - full dashboard - good glass - seats - trunk damage - minor dent left door - rockers rusty - motor stuck. Located in Missouri Valley, Iowa. For more information call Bruce at 712-579-1524 or 712-642-2125.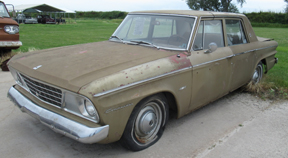 FOR SALE: 1962 4 door Lark, has a V-8, automatic transmission - asking $4,000. Also have 2 parts cars, one a 1960 4 door Lark, V-8, 3 speed transmission and a 1963 4 door Cruiser V-8 automatic transmission. Located in Lawrence, Kansas. Call George 785-843-5151
FOR SALE: 1952 Studebaker Commander Starlite Coupe Project car. Body off car - new floor pans and primer coat on body. Frame sandblasted and painted - 232 C.I engine with automatic transmission. Much new chrome - car disassembled, needs assembly. $4,500 - Call Gary 816-262-0341 or email: gnie@live.com Click link below for photos.
VENDORS FOR ALL YOUR STUDEBAKER
PARTS NEEDS
Click on the link below to go to the Car Guy Garage. You can send in a photo of your garage and receive a free T-shirt. Plus there are many photos of other guys garages to look at and numerous garage storage items that can be custom made just for you..
Loga Enterprises - specialists in Studebaker interior panels since 1985.
ANNOUNCEMENT REGARDING STUDEBAKER INTERNATIONAL

Posted by Ed Reynolds on Studebaker Addicts Facebook Page -November 20, 2017


Studebaker International has been sold. Beginning January 1, 2018 the business will be owned by Jim Lime and Corey Lime. Many have dealt with Jim and Corey over the years when placing orders for parts. Both men have been involved in all facets of the business and I suspect there will be few noticeable changes when they take over.

Although I will no longer directly be involved with the business, I will continue to make additional reproduction parts which S.I. will market. I will also spend time working on my own cars and hopefully complete some long overdue projects.

I started in the Studebaker parts business making Stratovue Mirrors and working out of my garage in Claremont, California. As the inventory increased, I opened "Studebaker of California" in Long Beach, CA which continued for 13 years. For the past 18 years I've owned Studebaker International in Greenfield, adding the South Bend, Indiana inventory in 2009. This business has continued to grow over the years as new parts inventories have been purchased and new parts made. I don't believe that many realize just how many new parts we're having made.

Since the purchase of the South Bend Inventory, much energy has been devoted to organizing these parts and making them available. This process continues.

The business has allowed me to come in contact with and make a lot of friends. Many have been very supportive over the years and are very much appreciated. I have also been fortunate to have a staff of very fine employees. They will continue, along with Jim and Corey, to provide needed parts for your Studebakers.
Studebaker International - Searching for a Studebaker part? There's no need to call anyone until you've called Studebaker International (317) 462-3124 or looked in one of our catalogs! With over 75,000 square feet of ready to ship pre-war and post-war parts for Studebaker cars and trucks, including Avanti and Avanti II models in our South Bend and Greenfield, Indiana warehouses, we're the largest supplier of NOS (New - Old - Stock) & reproduction Studebaker auto parts in the nation.
Fairborn Studebaker - We specialize in mechanical and performance parts. We provide many other parts including reproduction trim, rubber, and used parts. Our services include: door hinge repair, supercharger and engine rebuilding.

LINKS TO INTERESTING STUDEBAKER
RELATED SITES